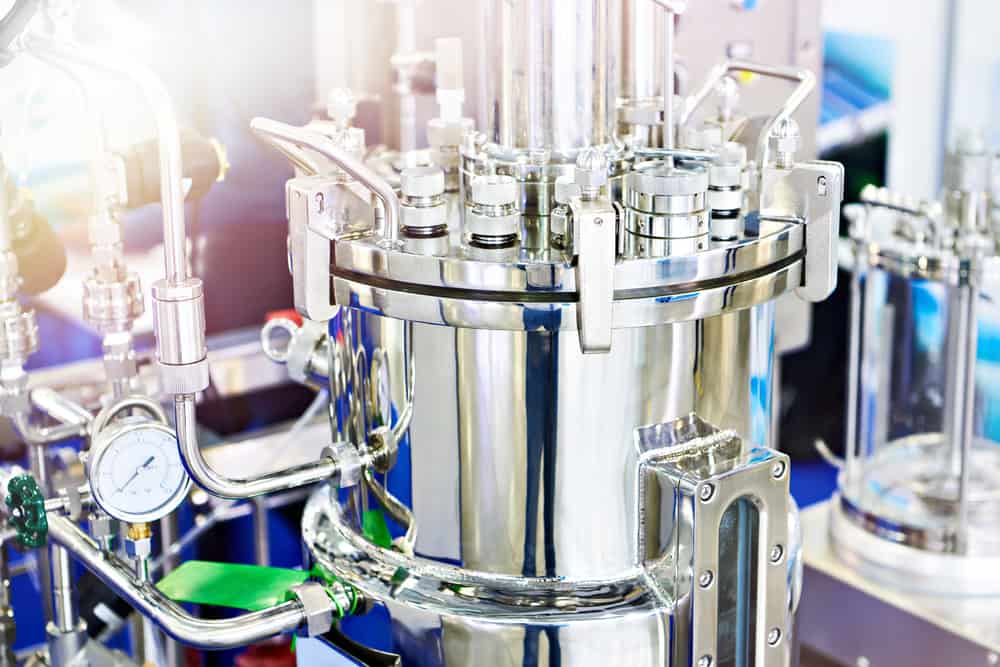 The world witnessed the pharmaceutical industry's advance in recent years as the industry successfully developed multiple vaccines to fight the COVID-19 pandemic in less than a year. This success can be attributed to the exceptional progress of pharmaceutical research and development and technological advances in manufacturing.
These technological advances can be observed in large pharmaceutical plants that produce chemicals continuously or in batches under controlled process conditions. This not only needs precision chemical input, but also high-strength components such as pressure vessels. The tanks or pressure vessels must have the mechanical strength to withstand the heat of the reaction and provide sanitary conditions to prevent potential contamination. 
The governing standard established by ASME (American Society of Mechanical Engineers) helps minimize discrepancies in the manufacturing process. Understanding these ASME requirements is a step toward welding the highest-quality pharmaceutical-grade stainless steel tanks.
Pharmaceutical Pressure Vessels
Pharmaceutical processing involves manufacturing chemicals using multiple steps of extraction, processing, precision mixing, purifying, and packaging. For these chemicals to be stored and processed, a containment system such as a pressure vessel or tank that meets the highest pharmaceutical standards is needed. Other pressure vessels used in the manufacturing process include bioreactors to heat exchangers.
When choosing the pressure vessel for each of the requirements, it is essential to consider the following selection criteria –
High mechanical strength capable of handling extreme process conditions (temperature and pressure)
Non-reactive material surface
Resistant to corrosion
Smooth finish to prevent contamination
Easy to clean
The ideal construction material that can fulfill these requirements is stainless steel. The austenitic grade 304 and 316 stainless steel meet the pharmaceutical standards and are widely used for fabrication tanks and pipelines. The advantages of opting for pharmaceutical grade stainless steel tanks are –
The material is resistant to most acidic and basic chemicals
They are corrosion resistant
Smooth surface finishes are easy to clean and sterilize, so the risk of contamination is low
Stainless steel provides excellent mechanical strength even under high temperature and pressure conditions
After the material selection is the crucial step of pressure vessel fabrication. To meet all critical requirements, welders and fabricators must adhere to established standards outlining pharmaceutical-grade stainless steel tank fabrication.
ASME Standards For Fabricating Pharmaceutical Grade Stainless Steel Tanks
Pressure vessel and tank manufacturers aim for ASME certification and stamp as proof of fabrication quality. The ASME U stamp indicates evidence of quality fabrication, while the R stamp is proof of quality repair or alteration. To achieve them, pressure vessel manufacturers must strictly adhere to the Boiler and Pressure Vessel Code (BPVC) created by ASME. Section VIII of the BPVC covers pressure vessel design, fabrication, and installation requirements. Division 1 of section VIII includes the specification for material use, construction process, and welding technique during manufacturing.
The material used in fermentation vessels, bioreactors, or other pharmaceutical tanks that come in direct contact with the media should align with the ASME BPE (BioProcessing Equipment) standards. This may include single-use bioreactors or vessels with CIP (clean-in-place) systems.
ASME standards for pharmaceutical welding and material selection can help manufacturers fabricate high-quality sanitary tanks.
Meeting Pharmaceutical Fabrication Standard With Orbital Welding
An ideal weld process like orbital GTAW will help ensure that your pressure vessel meets the fabrication mentioned above and sanitary standards required for the pharmaceutical industry. There are the following benefits you can leverage —
Through auto control of weld parameters, it is possible to maintain consistency and precision in heat input, arc length, voltage, speed, and movement of the weld head.
Shielding gas with a controlled flow rate will prevent weld puddle contamination to ensure clean welds.
Orbital GTAW is ideal for welding austenitic grade stainless steel.
Automated systems will allow operators to monitor the process remotely, protecting them from toxic gasses like hexavalent chromium.
Orbital GTAW reliably produces high-quality welds by performing consistently and continuously without human error.
Fabricating pharmaceutical-grade stainless steel tanks with reliable orbital GTAW will help you meet the necessary ASME standard, which is an indication of quality. With high-quality tanks, the quality and productivity of pharmaceutical manufacturing operations can continue to thrive.
Arc Machines, Inc., a leading provider of advanced orbital GTAW welding equipment and service, can provide you with solutions such as welding machines and orbital weld to help you fabricate high-quality pharmaceutical-grade stainless steel tanks that meet the required standards. For inquiries regarding products, contact sales@arcmachines.com. For service inquiries, contact service@arcmachines.com. Contact us to arrange a meeting. Arc Machines welcomes the opportunity to discuss your specific needs. .