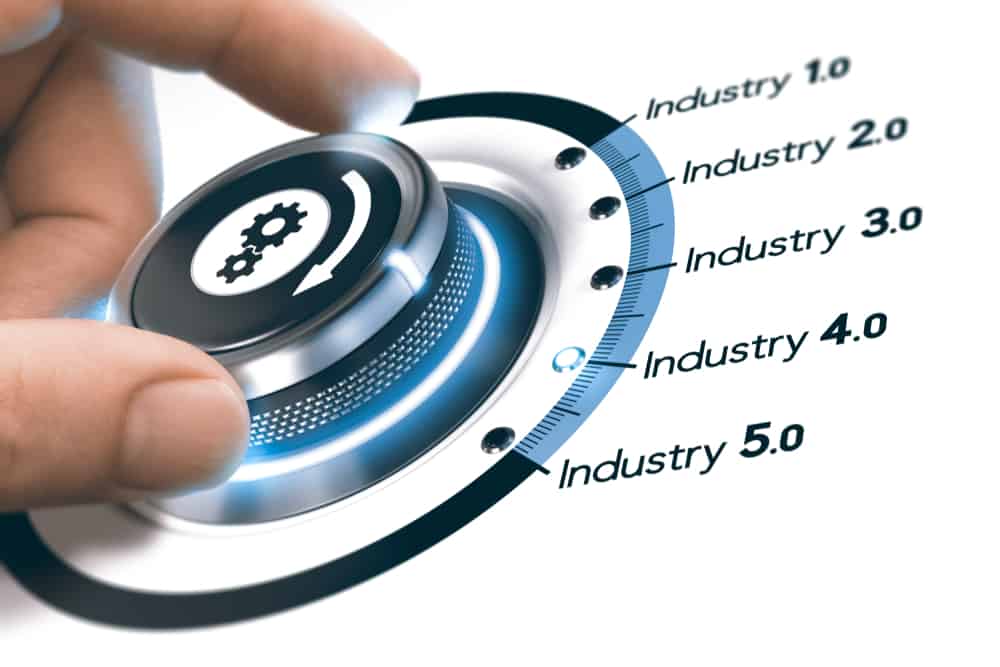 Industry 5.0 is the next phase of industrialization to extend new technologies such as artificial intelligence (AI), the Internet of Things (IoT), and big data to accomplish increased productivity and efficiency in the manufacturing sector. While Industry 4.0, or the Fourth Industrial Revolution, was characterized by increased automation and smart machine/factory deployments, Industry 5.0 leverages the potential of human expertise, intelligence, and creativity supported by powerful machinery. This next level of industrialization does not seek to minimize human intervention and prioritize process automation. Instead, Industry 5.0 seeks to strike an optimal balance between machine-human interaction and maximize benefits in production across industries.
Below, we discuss some of the key aspects of Industry 5.0 and how it could influence specific sectors such as welding, where both manual expertise and automated technologies play a critical role in successful outcomes.
Implications of Industry 5.0 in the Manufacturing Sector
Post pandemic, manufacturers have emphasized elements like sustainability, resilience, and human involvement in the manufacturing sector. Below, we'll examine how this relates to some key aspects of Industry 5.0.
Cost Optimization
Manufacturing processes that incorporate automated technologies and robots can maintain the consistency of product quality and meet the demand for high-quality products at lower costs. By deploying automation for repetitive and tedious tasks in manufacturing, companies can save on expensive human labor and reserve it for more specific, customized work while ensuring workforce safety.
Mass Personalization
Technological innovation alone cannot facilitate a degree of personalization without human intervention. Mass personalization in manufacturing goods calls for value-added creativity, problem-solving skills, and the exclusive human ability to understand customer demands and expectations. While conventional industrial robots will continue driving mass production, collaborative robots in Industry 5.0 would enable large-scale customization through human involvement.
Empowered Workforce
As Industry 5.0 shines a light on human expertise, it addresses the need to enhance skills and train workers to increase manufacturing sector competitiveness. By adopting a human-centric approach, this latest industrial trend aims to up-skill and re-skill employees on digital technologies to create an economy that works for people.
Sustainable Manufacturing
None of the previous industrial revolutions has prioritized the environment and taken ameliorative actions. Industry 5.0 promotes sustainable policies that aim to minimize waste by respecting production limits while encouraging the transition to a circular economy.
These aspects of Industry 5.0 lend speed, accuracy, and precision to human craftsmanship in manufacturing. For specific industries, such as welding, that are integral to various manufacturing processes, the Industry 5.0 trend has prompted the wide adoption of automated and semi-automated technologies. Additionally, skilled welders are increasingly trained to implement automation for complex welding procedures.
How Industry 5.0 Would Influence Welding Processes
Industry 4.0 led to the incorporation of robot programming software and the Internet of Things (IoT) in welding.
Robot programming software, specifically offline programming software, optimizes welding parameters for various applications and ensures weld accuracy while significantly improving productivity. By deploying IoT in welding, manufacturers can gather and analyze data generated during the welding process to monitor the weld quality against the established weld parameters. Welders can detect inefficiencies, optimize welding practices, and conduct predictive maintenance of the machines to improve the overall performance of welding machines. Advanced welding elements such as automated orbital welding equipment—including power supplies, weld heads, and turn-key welding systems—are instrumental in implementing welding automation for manufacturing processes and ensuring the safety of welders.
However, automation in welding cannot be accomplished without knowledgeable welders who understand basic welding parameters, such as weld pool and molten puddles, and operate welding equipment accordingly. Welders trained to operate advanced welding equipment and software are better equipped to realize the benefits of automation and achieve flawless welds in low-tolerance, high-specification projects.
The optimal machine-human balance that Industry 5.0 aims to achieve can be witnessed in the welding industry, where the shortage of skilled manual welders requires both process automation and new welder training on advanced equipment and welding technologies.
Arc Machines, Inc. is an industry leader in developing advanced and customized automated welding solutions for various industries. To know more about how our orbital welding equipment will support Industry 5.0, contact sales@arcmachines.com. For service inquiries, contact service@arcmachines.com. To develop a custom solution, contact us to arrange a meeting.